Who's ready to get Fit for Fall? It's time to bring out those skinny jeans (if you haven't already) and with this Challenge you'll be more than ready to rock them!!!
****
Chair Lunges
Stand up straight with a chair behind you. Bend your right knee back and place the top of your right foot on the seat of the chair. Then bend your left knee to lower yourself into a lunge. Stay in this position to do lunges, and then repeat with your left leg on the chair behind you.
Single-Leg Glute Bridge
Lie on your back with your arms out to the side, knees bent, and feet flat on the floor, hip-width apart. Keeping your thighs aligned, straighten one leg so that your toes point up. Squeeze your glutes to lift your hips evenly off the floor  then lower. Switch legs.
Squat arabesque
Stand with feet shoulder-width apart. Squat and hold for one count. As you stand up, raise arms and lift left leg straight behind you. Return to start; switch sides.
Pulsing Plie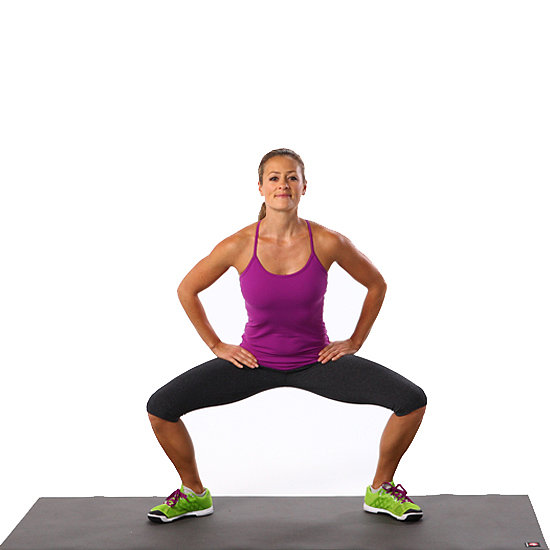 Start with your legs opened wide to the sides and your toes turned slightly outward. Placing your hands on your hips, bend your knees, going as low as you can. Make sure your shoulders remain directly over your hips and your knees are in line with your feet. Make small pulses up and down, moving about an inch.
Lunge Switchback
Begin in a lunge position with your left foot in front of your right, left knee at a 90-degree angle, and hands on the floor on each side of your left foot. Keeping your hands on the floor, shift your weight onto your hands, and in one swift motion, switch the positions of your legs. Spring from the right to the left and back again.
Calf Carver
Raise right knee to hip level, toes pointed, hands behind head. Contract abs as you lift left heel as high as you can off floor, balancing on ball of foot. Hold for 3 seconds, then lower heel for 1 rep. Switch legs; repeat.
Dumbell Side Lunge & Touch
Hold a pair of dumbbells at arm's length next to your sides. As you lower your body into a side lunge, bend forward at your hips and touch the dumbbells to the floor. Switch legs.
Stability Ball Leg Curls
Lie on your back with your heels on top of a stability ball. Press your heels into the ball and lift your body off the floor to form a straight bridge with your body. Powerfully contract your butt and hamstrings, and curl the ball inwards until your knees form a right angle — you should feel a massive contraction in the lower part of your butt, where it intersects with the hamstrings. Hold the contraction for  5 seconds and then roll the ball back out to full bridge and repeat. If this is too easy you can amp up the intensity by completing each curl with one leg (while keeping the second leg elevated in the air).
I'll be there with you every step of the way – let's do this!
Angel
You Might Also Enjoy: