A new month. A new challenge. Let's Do This!
***************
THIGHS
Chair Pose
Stand tall with your feet together. Push your hips back and bend your knees to lower into a narrow squat. At the bottom of your squat, squeeze your knees together and reach both arms up into a 'V' shape, thumbs facing up. Hold this position for 30 seconds. That's one rep. 
Tip: Look down at the floor to avoid neck strain during this move.
Single-Leg Squat
Lift right leg off the floor, bending knee 90 degrees and place hands on your hips. Bend left knee, lowering into a squat. Hold for 1 count, straighten leg, then repeat.
Side Lunge
Step out to the left with your left leg.  Bend your knee and sit back to lower into a side lunge, keeping your back flat. Press through the left foot to return to start. That's one rep. Repeat on the other side and continue alternating each side.
Side Lunge with Dumbbells
Plie Squat
Begin in a wide stance with toes out at a comfortable angle. Your knees will need to stay aligned with your toes, so don't go out too far. Bend the knees and lower down into a squat, keeping knees in line with toes, abs contracted and back straight.  Push back to start without locking the knees.
Plie Squat Jump
Standing with feet wider than hip-width apart and toes pointed out at a 45-degree angle, lower your hips while keeping your pelvis tucked under and your knees over your feet. As you return to the start position, power through your heels, then toes, jumping off the ground. As you land back in the plié position, bend those knees to absorb the impact. Immediately use that momentum to power up into another jump.
Lying Side Circles
Lie on your right side with your right upper arm on the floor and your head resting on your right hand. With knees straight, bend at your hips so your legs and torso form a slight angle. Raise your left leg 6-8 inches and make small forward circles from the hip, raising the leg higher with each one. From the highest point, make 8 more small circles in the other direction as you lower the leg to start. That's 1 rep. Repeat on the other side.
Kneeling Side Circles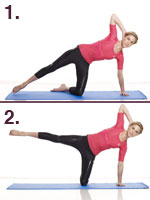 Start in a kneeling position, and tip your torso to the left. Place your left palm on the floor and your right hand behind your head. Extend your right leg out to the side. Lift your right leg, and begin making small circles, gradually increasing to larger, sweeping circles. Do 8 forward circles, and then 8 backward circles.
Tip: place a pad under your kneecap if this causes knee pain.
ABS
Plank with Toe Taps
Start in a push-up position. Lift one foot to tap to the side about 12 inches from your stationary foot then return, alternating feet.
Crunch Chop
Lie face-up with legs extended at 90 degrees, arms overhead, hands clasped together. Take a deep breath in, and as you exhale, pull your navel into your spine and lift your head and shoulders off the floor. As you crunch up, open your legs into a straddle position and 'chop' your arms through your legs.
Belly-Blasting Taps
Sit with knees bent, toes touching floor and arms extended in front of you. Lean back until abs engage. Reach hands forward as you bring toes 4 inches off floor. Return to start for one rep.
Balancing Act Abs
Lie face-up on mat and bend knees into chest to place an empty box atop soles of flexed feet. Place arms on floor slightly out to sides and slowly extend legs straight up. Without rocking, slowly lift hips a few inches off mat and then lower them.
To make easier: Do not use block.
Half-Seated Leg Circle
Sit on the floor with your legs fully extended, leaning back on your elbows, your fingers cupping the sides of your hips. Keeping your lower back pressed into the floor, engage your core and lift your legs about 45 degrees. Point your toes, press your thighs together, and trace 8 large clockwise circles and then 8 counterclockwise circles.
Cheek to Cheek
Start in plank position, balancing on floor on forearms and toes, a straight line from head to heels. Keeping shoulders level, twist midsection to lower left hip toward floor; touch floor if possible. Return to plank and then lower right hip to floor.
xoxo,
Angel
You Might Also Enjoy: